Ausgrid Regulatory Reset 2024 - 29
Every five years, Ausgrid is required to submit a proposal to the Australian Energy Regulator (AER) that details our proposed business operations and service delivery for the next five-year period. The reset proposal outlines
our ongoing commitment to customers and community
changes in our environment
forecast expenditure
asset base and depreciation
revenue and tariffs
customer price impacts.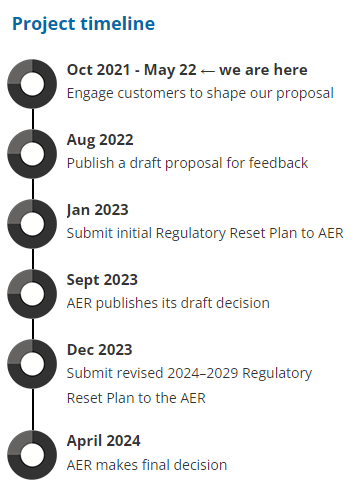 The next proposal will cover the years 2024 to 2029 and needs to be submitted to the AER by January 2023. The AER expects Ausgrid to engage extensively with its customers and stakeholders in the formation of the draft proposal and final plans to make sure there is evidence that they are in customers' long-term interests.
How we are engaging customers and stakeholders
We have developed an engagement framework to guide our broad discussions with customer and stakeholders. It was developed through a co-design process with the Reset Customer Panel and other consultative bodies. We are committed to seeking the involvement of those who are potentially affected by our decisions and promise their contribution will influence our plans and decision-making.
Have Your Say
You can find out more about our engagement process and framework, and find out how you can get involved on the Ausgrid customer engagement hub website.
Our Approach
Our engagement approach for the Regulatory Reset proposal for 2024-29 is based on five engagement principles:
Accountable - Do what we say we will do, and encourage customers and stakeholders to hold us to account
Inclusive - Provide information from customers' and stakeholders' perspectives in a convenient, timely and accessible format
Collaborative - Partner in the design of alternative options and the preferred outcome where possible
Dynamic - Be progressive , open to new ideas, and prepared to change based on feedback from customers and stakeholders
Transparent - Be as open as possible on the role of stakeholders and customers in the decision making process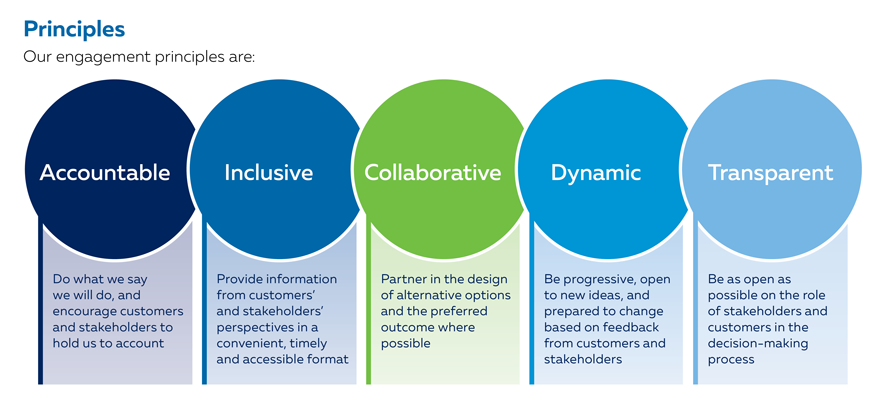 You can read more about this framework by downloading Ausgrid's Stakeholder Consultation Framework below.